Methods & Muses Vol. 2
Rhythms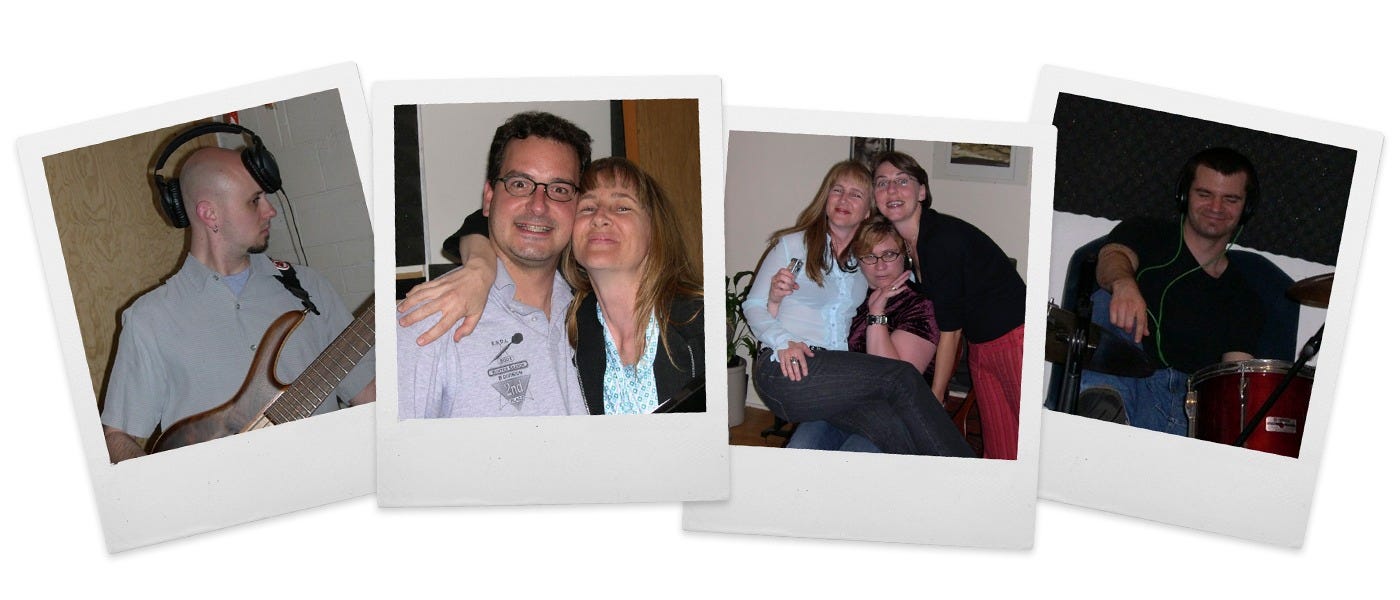 Poetic Rhythms
Meaning, Aesthetic, Constraint
My friend Jen is brilliant.                                                    
She is a teacher, an editor, and dearest to me, a poet. Jen and I met in Berlin when we participated in our writers' group, The Raumerstrasse Writers. 
The moment I heard Jen read, I fell in love with her voice. There was a listening quality to her poetry and prose. By this I mean that I heard Jen writing within and from a silent, still place. It may sound strange to say, but I heard her listening.
It's been my experience that many writers need quiet to work. Some of us can focus with sound and stimuli like music, café chatter, etc., but many of us need a more absolute quiet. I think we hear a particular voice, a certain timbre that calls only if we are quiet. 
I have never asked Jen directly about her process, so I could be wrong. I know that within her work there is a consistent rhythm, an enchanting music. While it may change slightly, according to topic or genre, it is always there- distinct, soothing, welcoming. Her voice seems to greet her like a friend. Again, I have never asked her, and to be honest, I probably will not. I respect her mystery. I respect the mysteries of all artists. We are somewhat like naughty children or cats. We share when we want to share.
In a recent (now virtual) meeting of the Raumerstrasse Writers, Jen did share a little something about her process. She did it quite naturally, as only she could. We were talking about how we liked writing prompts, because they discipline us and offer focus. Jen said that when we craft poetry, it is easy to lose meaning by getting caught up in the aesthetic. This made me laugh and check myself. I love the sound of words, and when I write a particularly well-crafted line, it is hard to let go. Jen eloquently added that when we are given constraints, like those we accept through writing prompts, or those set by forms, our work tends to be stronger, we circle back to meaning.
In the last four or five years, I have been working with form poetry- pantoums, villanelles, a sonnet or two, a sestina and some haiku. I've also created my own form that I call the 'altered minute.' I'll provide details about my form fascinations later in this post, but first I need to admit that I'm playing with forms after years of avoiding them. 
Here's the story…
As a young poet, (ages 8-15) I did as many young poets do, I used rhyme- a lot. I took my notebook into the woods and wrote dreamy poems about crushes or sad poems about my dog. I thought that this was poetry- romantic, dramatic or about death. I learned this through reading collections of 'famous' poets, or really, poems by deceased white men like Ernest Thayer's "Casey at the Bat," Edgar Allan Poe's "The Raven," or John Keats's "To Autumn." I understood the narratives, the meanings in these poems, but I got lost in the aesthetic. Those end rhymes, that I was later taught had letters assigned to them like aa, bb, or abab, cdcd, etc., captured my young attention because they were rhythmic, catchy as a pop song. 
Around high school (ages 16-18), I discovered free verse, thanks to another deceased white man, Walt Whitman, and I rebelled against forms. Within this rebellion, I started to hear my own voice. I began to experiment with line breaks, really listening to where I wanted to pause or place emphasis, use repetition or inner rhyme. I started to play with my own sense of sound. Oh, my high school poems we still angsty, but I was reading as much free verse as I could. I turned to Emily Dickinson and Sylvia Plath. Their voices were closer to my own. In both Sylvia and Emily's work, I heard women listening, trying to hear themselves. I knew they were observing, trying to make sense of the world around them through poetry.
After Dickinson and Plath, I read more 'well-known' or 'famous' poets, some close to my background, and others whose life experiences were very different from mine, but from whom I learned lessons that would stay with me for the rest of my life. The list of these muses and what they taught me is too long to post in a single newsletter. I can, however, thank some of them. First, here are a few of my early teacher-muses:
Gwendolyn Brooks- "We Real Cool" 
Denise Levertov- "Come into Animal Presence"
Carolyn Kizer- "Semele Recycled"
Lucille Clifton- "Miss Rosie" and "Homage to My Hips"
Adrienne Rich- "Phantasia for Elvira Shatayev" and "Dreamwood"
Carolyn Forche-"Selective Service" and "Prayer" and "The Island"
Louise Erdrich-"The Glass and the Bowl" and "Sunflowers" and "The Strange People"
Nikki Giovanni- "Nikki Rosa" and "Ego Tripping (there may be a reason why)" 
And here are some of my more recent teacher-muses:
Sean Hill- Dangerous Goods
Jen Chang- Some Say the Lark
Nickole Brown- To Those Who Were Our First Gods
Jessica Jacobs- Take Me with You, Wherever You're Going 
Camille Dungy- Tropic Cascade
Ada Limon- Bright Dead Things
Emily Berry- Stranger, Baby
Brooke Matson- In Accelerated Silence
Naomi Shihab Nye- Everything Comes Next
Tina Mozelle Braziel- Known by Salt
Carmen Gimenez Smith- Be Recorder
I stayed with free verse for years because I loved it. All the voices surprised me in both craft and content, and I felt like there was a place for my voice too. I did not actively choose to reunite with forms. There was some magic involved, and it took some time…
In the late 1990's, fellow poet and visual artist, Melissa Fair, introduced our writers' group (Animal-at-the-Door Poets Consortium, I still love that name) to the pantoum. I loved how the pantoum folded and unfolded like a paper accordion, how it felt hypnotic to read aloud, how the meaning shifted slightly towards the end and how the ending delivered with weight.
In 2006, I attended a workshop hosted by fellow poet, David T. Manning. He taught the minute poem. I loved the concise discipline, the purposeful, clock-like music of each line. I loved the minute poem so much that I played with it, dropping the end rhyme and iambic meter and elongating it. I devoted myself to my 'altered minutes' until I had a both novella and a poetry collection filled with them. 
In 2015, while I was alone at my desk, I visited Sylvia Plath again and found that she had written a villanelle called "Mad Girl's Love Song." I searched for more villanelles and found Elizabeth Bishop's "One Art."  The villanelle was mysterious to me. It rhymed, but with its own music, it felt graceful, prayer-like. 
All of this glorious twirl led me to share my passion for forms with Benjamin. As a bass player, he was all about those rhythms and attracted to the math of this kind of poetry, so he bought himself a book and studied. Then, we started to work, pairing poetic forms with ambient and modern classical music. We worked and played in the studio for months until we had our album, Biotic Agents. 
Currently, we are submitting Biotic Agents for review in advance of its release on December 11,  2020. We are hoping to find a kindred spirit, a reviewer who will write about our album and help us reach a broader audience. Until then, if you are interested, you can preview two songs and place a preorder. Thank you in advance for your support.   
And thank you for reading!
I hope you can find quiet to hear your voice and poetry to teach and soothe.
---
Collaborative Rhythms
Kelly and Me, Half Wild
I am a woman, half wild.
I prefer to be outside, feet in cool dirt or warm sand, toes on rocks in a creek, ankles in lake water, hips in the Gulf Of Mexico, skin in the sun or wind, bones and blood moving. 
I am migratory.
Often, I wish I were a wolf, but my eyes, ears, and voice tell my brain that, for now, I am human. I live in a house, but I want to open all the windows, or better, sit outside. There is a button in the house I can press for heat, but I want to build a fire. My body belongs to, belongs with, and will return to, a bigger nature. 
Wherever I go, I look for women who feel this. 
Women who are half wild. Women who want to be wolves. 
Eighteen years ago, I found a pack mate, and her name was Kelly.
Kelly and I were in grad school together. For the first assignment in our Visual Images class, our professor asked us to draw ourselves as fruit. I drew myself as a raspberry, shining in the sun. Kelly drew herself as a tomato, swimming across the English Channel. 
I liked her immediately.
Kelly and I spent two years intensely working, playing, making a lot of art.
Our brains wrote poems and songs together.
Our voices spoke and sang together. 
Our hands moved rocks, raked dirt, and wove kite string into spider webs together. 
Kelly drove us home from class when winter nights made walking to the train undesirable. On those drives, she fed me bacon. She also drove me from Chicago to Wisconsin, to return a row boat I had borrowed for my thesis project. On that trip, we toasted our graduation with Bloody Mary's. 
When I needed a confessional (for a class assignment), Kelly's husband, the talented, Mark Campbell, designed and built one for me. He carved it with skulls honoring Mary Magdalen. I loved it. 
Kelly and I convinced our professor to allow our band, Lounge Car, to be a class credit. Together with our bandmates-Mark Hughes on drums, Rachel Napoli on piano and violin, Benjamin Dauer on bass, and Kelly Smith-Campbell and me on vocals, we performed on the stages of The Hot House, Maxim's and The Green Mill. And we recorded an album.
Kelly and I sipped and strolled, rocked our hips, rode trains and drove, laughed and cried together. 
We loved each other.
After grad school, after running in a wilderness we had created together, Kelly and I forgot how to be tame. 
We tried. 
We tried being teachers, inside buildings, but there were not enough windows, not enough light.  
During this time, we lost each other. It was a cold, blue season, and it lasted for way too long. 
Yes, we learned things about ourselves-we loved our husbands deeper, we travelled and met some beautiful artists along the way, but no one quite connected with us the way we had connected, the way we had been wild. 
Kelly and I missed each other.
So we howled.   
And the mystic answered us. 
First, there was a rain storm that unfortunately flooded Hughes's basement. While he was cleaning up, he came across his Lounge Car CD and contacted all of us. True to his magic, his loving nature, Hughes reminded us of the damn good music we had made, the fun moments we had had together.
My heart melted. I missed writing music and belly laughing with my band mates. I missed everyone, especially Kelly. I felt her missing me too.
She and I emailed, writing our way through the blue, dreaming past it. 
And we found each other again.
Thanks to that rain storm and Hughes's love for clearing the way, thanks to Benjamin's delicious bass lines, his gift for composition and clarity in naming us, Kelly, Benjamin and I are writing songs again. We are Half Wild. 
Stay tuned for updates. And thank you for reading!
---
Collaborative Rhythms 
Lounge Car 
One night, early in my relationship with Benjamin, he went to a bachelor party, or stag do, as my Brit friends know it. I thought since he'd be busy with his boys, I would hang out with my friends, Kelly and Mark, or Campbell, as he is lovingly called.
Kelly was in grad school with me. For our Sound Images class, she had shared a recording where she sang as Campbell spoke and sawed wood. I fell in love with Kelly's voice, her brain spun me around, and she was damn funny. As luck would have it, she also lived near me, so we rode the train and walked home together, talking about our writing, learning that we had shared passions-nature, love, ghosts, witches. 
I should mention that prior to the night of the stag do, I had invited Kelly and Campbell to a gallery where I was performing. They graciously attended my reading, as did Benjamin, so they had met my new man. This is important. My friends met Benjamin and formed a good first impression. My friends thought Benjamin was a nice guy. 
So the three of us met at our local bar, because it had a great juke box and free popcorn. I learned more about how Campbell was a wood worker artist, how he and Kelly had met and fallen in love while working together for a theater company, how they'd renovated and then sold their house, so Kelly could pursue her degree. I loved them as a couple instantly. Campbell was confident and funny in the best, subtle, Midwest way. He complimented Kelly, and they clearly adored one another. Sometimes you meet people who feel like home.
I told them more about Benjamin, and as I was gushing, he and his crew walked into the bar. Of course, I was delighted and surprised! Benjamin hugged me and whispered that he'd convinced his buddies to come, so he could be with me. Kelly and Campbell nodded and tipped their beers. Benjamin was scoring more points. 
Two of the groomsmen, Jerry and Mark, or Hughes, as he is lovingly called, joined us at our table. Both of them were engaging and charming. Jerry was majoring in film, and Hughes was a drummer who also rapped. As the beers flowed, Hughes impressed us with a rap about his favorite character from an 80's TV show. See if you can guess the show with just a tasty sample of a verse and part of the chorus:
Man, I'm searching for the brighter side of a program combination that can fit my own mind.
There was this one I'd never seen before about this group of kooky girls living up in the dorms.
The place was guarded by some "Mrs. G" and a strict son of a gun, they called him Mr. Bradly.
There was this girl who wouldn't take no crap- bold, strong, little woman, always talking back.
Well, I guess she got fierce only part of the time, but when Jo spoke up, I just lost my mind.
See my girl, Jo Polinaszcek, 
forget about the rest, 'cause she keeps 'em in check…
Any guesses? Leave me a comment if you want to play.
Later, back at Benjamin's apartment, we had a night cap. Benjamin asked if I wanted to share my poetry. I was nervous, but I shared some recordings I had done with a jazz band. Hughes listened, looked at me, and said, "You're my hero." 
I thanked him and blushed. No one had ever said that to me before. As I got to know Mark Hughes, I learned that he held a consistent, deep love and loyalty to his friends. Like Mark Campbell, he had a great sense of Midwest humor, the kind that gets away with teasing you so well, you laugh at yourself. One day, as I was walking to the train, carrying my art homework in two vintage suitcases, Hughes met me on the sidewalk and said, "Michelle, you look like a little girl running away from home." Yes, he understood me. I was, and in many ways still am, a little girl running away to somewhere.
That bachelor party night, the three of us started talking about forming a band, but we wouldn't end up a trio. Needless to say, lovely Kelly would be joining. It just had to be. 
And the next day at work, I shared my excitement with my Academic Director. Jason was very supportive and mentioned that his wife, Rachel, was also looking for a band. This was too serendipitous to be true. Rachel was a pianist and violinist. She was lovely, witty and a most skilled musician, into everything from Burt Bacharach to Stevie Wonder. Oh yeah, Rachel would be coming along. 
So we formed a quintet, an eclectic quintet. Our collective backgrounds included: funk, rock, folk, jazz, blues and classical. We did not have a guitar lead, and I was a poet, so we weren't quite sure what kind of music we would play. I think on an unspoken level, we knew we were in love, so we were willing to experiment. To begin, we did as Midwesterners do, we met for drinks and talked a lot. We practiced, and soon, we were writing sultry love songs and songs about our shared fascinations, things like space travel, British culture, Florida beaches. We wrote toward subjects like what defines home, and how it is important to slow down, take your time and breathe into a day. We even did some covers, which we chose carefully, like Burt Bacharach's "The Look of Love" and Paul Williams (and Kermit's) "The Rainbow Connection." 
What I remember most about our quintet was how goofy we were, how much we belly laughed, like rocking-holding-your-stomach-tears-squeezing-out-of-your-eyes- all-the-words-gone from-your-throat kind of laughing. We knew how to have fun, how to not take ourselves too seriously. From my bandmates, I learned that art is joy. Joy is not a thing to be taken for granted, to dismiss as frivolous. Joy is a powerful force, strong enough to transcend weeks of gray skies and freezing temperatures. We were focused, yes, because it's important to finish things. Artists always have ideas, ideas are the air we breathe, and they feel amazing, like a first hit of coffee, but sometimes we forget to hang out with just one idea and see it through to completion. This is why it's vital to have other artists in your life to hold you accountable. As a band, we helped each other. We finished an album, and this was a power that bonded us together for life.
We called our band Lounge Car, thanks to Hughes for coming up with the name. It was a beautiful time, and while life pulled us in various directions, as life does, those years with Lounge Car were some of the best in my life. I feel grateful for my bandmates, grateful we have stayed in touch and stayed in love. 
---
Closing Rhythms
Spring and Summer into Autumn 2020
Despite, or maybe to spite this awful year, I have tried to keep my spirits up by diving into my work. Admittedly, I may have turned a bit too inward, but in turning toward my art, leaning on it for inner strength, I have finished projects and started new ones. I am incredibly grateful for this and for the muses in my life who have helped me reach my goals, especially the one I married. 
Thank you, Benjamin, for updating my website to include vocals for the poetry, for helping me complete and compliment Biotic Agents, for The Dwindlers, the music, always.
Thank you, Kelly, for making a gorgeous book trailer for my novella, for encouraging me to sing and hear melodies within myself, for being my wolf.
Thank you, Athene, for helping me edit 70+ pages of poetry and form these into a solid collection, and thank you for your poetry, your voice echoing in my brain.  
Thank you, Christine, Jen, and Ralph, for reuniting, sharing your beautiful writing, listening,  supporting my first novella and inspiring me to begin my new one.  
Thank you, Christine, for the opportunity to write interdisciplinary curricula, to use my voice for meditative purposes and my collages to inspire and heal. 
Thank you, Dara, for being a constant source of inspiration and support. I would not be stretching to write this newsletter if it weren't for you, my friend, my Lark. 
And thank you, reader-muses for taking time for my words, for spreading the word, and for being out there in the world doing the lovey, powerful things you do. Love, love, big ol' love to all of you!