Methods & Muses Vol. 3
Lines and Layers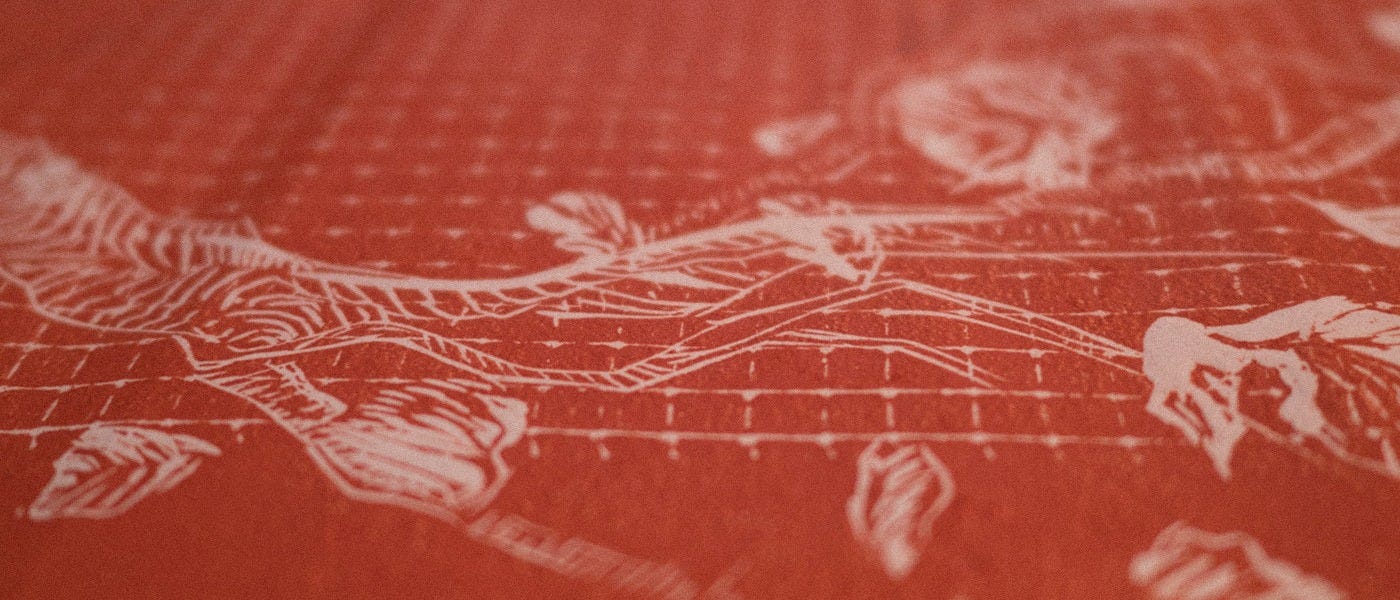 woodcut print by Jen Coon
Lines, Drawing
What are the lines of your life? 
My professor, Suzanne Cohan-Lange, asked us this question in her Visual Images class. 
I loved it. I wasn't sure how to begin, or how I'd visually answer, but I loved the challenge, the possibilities. I considered the branches of my family tree, lines on a map of the U.S. from Tampa to Chicago, lines of poetry. All of these were lines of my life, and I could think of many more. 
But what were the lines that mattered to me in that moment? What were the lines that had me living with my cat, in a studio apartment, in a cold, gray city where I did not know anyone (except my Aunt Ruth, a Franciscan nun, busy with her own life)?
What surrounded me? 
I had a table, the only big piece of furniture I'd brought with me. I loved it because it was vintage, a 1950's Formica and chrome beauty, but its edges weren't crisp, its lines softened into curves. 
I slept on an air mattress. No lines there. 
I found a ladder in the alley. I stacked my books on it, so there were some nice lines. 
I used a metal gate as a bulletin board for my calendar, lists, postcards. Nice lines too.
But books and anything paper seemed too writer-focused. 
I wanted something that spoke to my emotions, the twirl of uncertainty I felt, chasing a dream to work in a world of art. I wanted to draw something that spoke to my fear and my courage, the vulnerable and playful parts of me.
As I sat there thinking, my cat, Tramp (short for Trampoline) leapt into the kitchen cupboard. He wasn't supposed to be up there, but he was always jumping where it might not be in his best interest. 
The first time I saw Tramp, he was just a wild kitten, no bigger than my hand. I was riding my bike on a trail beside the Hillsborough River, when up ahead, I saw a little ball of gray fluff leap from a bush onto a full-grown Dalmatian. The poor dog yipped at the sudden pinch of tiny claws, and I disembarked to help pull off the naughty kitty. 
I scooped the squirmy baby close to my chest and went door-to-door, asking if he had a home. One neighbor said that she saw a truck drop him off and ride away. She suggested that I adopt him, so Tramp came to live with me, on his terms, as an indoor-outdoor cat who continuously entertained me.
One morning, I awoke to some familiar meowing. From my bed, I looked out the window to see my tom hanging out on the neighbor's roof, calling for breakfast. I was scared that if I opened the window, he'd try to jump to me, so I ran outside, grabbed my landlord's ladder, climbed and coaxed Tramp into my arms.
Another time, I was in a bubble bath. Tramp leapt over me, landing gracefully on the window ledge. He then leaned forward splashing his paw in the water, playing with the bubbles. The first time was disconcerting, with fur and claws flying over me as I was naked in water, but Tramp made this a routine, so I came to expect it. He only fell in once, freaking both of us out, but this didn't stop him from tub jumping again and again.  
So there was my cat in the cabinet. He didn't knock off a single plate, didn't break anything. He was simply claiming his place for a better view of the birds and squirrels, and he was sitting very still. Tramp was posing.   
I started to reach for paper, but then I saw my rolled-up window shade and laughed. 
I thought, How perfect. I'll draw on something meant to cover, keep privacy in, sunlight out. My canvas will be something meant as a shelter from the outside world, a symbol of claiming inside space. 
I thought, How funny. I'm sketching a cat who rules this space. Where are the lines that mark this territory? Who am I in this space? Am I still a teacher? An artist? A restless cat? Do I need more wine? 
I had to work efficiently, because I didn't know how long Tramp would stay still. At this point in my practice, I had had some training, some recent review of the skills needed for life drawing.  
Before Suzanne's class, I had taken Drawing I from Kathy Moyce. Like many art classes, hers began with still life and moved into figure drawing. We learned to start with the 'biggest' shapes, most obvious lines we saw, and draw our way into the smaller details. Like many art teachers, Kathy said, "Drawing is seeing. Trust your eyes to move your hands." 
So I started with Tramp's head and body and legs. I paid close attention to his back legs, the energy that I knew he was holding, trying not to jump. I felt his tail twitch. I heard him chatter, like many cats do, when they see something delicious.
As I worked from Tramp's general shapes into the finer lines of him, I felt myself move into what Kathy liked to call, Art Time. Art Time occurs when everything slows down, gets quiet,  everything around you blurs and fades, as you and your creative task become one thing. Art Time happens when you are content to be lost. 
I was drawing, lost in continuous lines, not looking down at my hand, not lifting my pencil. I heard Kathy's voice say, "Let go of what your subject is supposed to look like and embrace only what you see." Hunger. Anticipation. A beautiful predator in my kitchen.
I was always drawing in my kitchen. I drew shiny things, tools like my whisk and wine opener, decorative things like my vintage Jell-O molds, but most of all, I drew flowers. I loved outlining them in ink, then coloring them with watercolor pencils using very little pressure.
Kathy noticed this, and suggested I study Art Nouveau. I did, and I fell in love with Alphonse Mucha for his languid figures and nature imagery. I studied other artists who played with lines. I liked Alexander Calder for the lines floating in his portrait mobiles, and I respected Jenny Holzer and Barbara Kruger for their lines of text conveying feminist statements.  
I was thinking, floating, drawing, slightly unaware. 
Kathy swore that Art Time affected the clock, that drawing had the power to stretch time. 
I believed her. 
I also believed Suzanne when she said that, as artists, we have a gift. We understand liminal space, the space in between, the unknown. Suzanne said that we were comfortable not knowing. 
We lived in this space. 
My friend and classmate, Kelly, created an installation inspired by this idea. Called Liminality, her piece had rotating blinds, covering and uncovering a video of a family posing for a photographer. In Liminality, Kelly questions our ever increasing desire and allure to showcase our lives through social media. She explores the line between authenticity and standardizing our lives to look like ads. Her piece suggests that to see the truth of an image on a screen, you have to look through the cracks.  
Tramp jumped down and twirled under my legs to signal the hunt was over. My hand ached, my brain was full. I looked down at my window scroll, happy with what I had recorded. Then I reached for the cat food to reward my model. 
---
Layers, Printmaking
Autumn, 1981. 
I was a freshman. It was my first day of public school after attending Catholic school for eight years. I was chewing gum and wearing tight jeans. Life was good. 
My morning had gone well, but I was most excited for the class I'd have just before lunch, my favorite (next to English), Art Class. 
I sat next to my friend Carol. An energetic girl with curly hair joined us, introducing herself as Andrea. Everyone waited quietly for the teacher. 
What happened next is imprinted onto my brain forever. 
A bearded and bespectacled man hobbled in, his cane clicking the floor. He looked like someone out of a fairy tale.
"Kiddos," he said, dramatically twirling his cane, "I want you to think about birds. There are some magazines on the shelves over there. Take a stack back to your table. Flip through them and choose a bird."
Then he sat down at his desk and ignored us.
"This is weird," Carol whispered. Andrea shrugged and went to get us magazines.
The class was dead quiet except for the crinkle of turning pages. 
"Oh, for Pete's sake!" yelled Rumpelstiltskin, thumping his hand on the desk and making us jump, "Just rip out a damn page! Honestly, don't be so timid. It's annoying, and frankly, a little boring."
Carol and I couldn't look at each other. We'd been friends since we were seven, and we would have had a nervous giggle fit. We were taught to be respectful to our teachers, but we'd never encountered anyone like him. 
Andrea was brave. "Once we have our bird, what should we do with it?" she asked.
"Finally!" answered our eccentric teacher, "someone with courage. Thank you! I'll tell you what you should do, draw it! I believe all of you were notified that a sketch book was mandatory for this class, but if you don't have one yet, there's paper on the shelf. Very good. Now get to work."
Andrea pushed. "Excuse me, Sir, but what's your name?"
The curmudgeon tilted his head back and laughed. Andrea had melted him. "Oh, Kiddos!" he said, "I'm Leo. You need to call me Mr. Regenold though, ok? We could all get in some trouble if you don't. Ok, now, get to work."
Andrea, Carol and I smiled as Mr. Regenold turned on the radio and then disappeared into the back room. He only reemerged when the bell rang to mumble something about tomorrow and looking at our birds.
The next day, Leo came in skipping. His cane was gone, and he was tossing us candy bars.
"Hello Kiddos! Here's a little energy for you, and let's see your work! Today I'm going to teach you how to turn your drawings into linoleum prints."
This was how I was introduced to printmaking. This was how I fell in love with layers.
In Leo's class, I learned how to transfer an image of a bird onto a sheet of linoleum, see the difference between positive and negative space, and work with colors. Because I had chosen a pheasant for my bird, I would ink my sheet several times, beginning with white, then the golds, to the greens and blues, through the richer browns and amber tones, and finally to the black tips of his feathers. I learned carving was like poetry, quiet and meditative.
And in his class, I made a new friend. 
Andrea and I stayed in touch for years. 
As she studied for her Master's in Fine Art (with an emphasis on Print and Paper Making), I volunteered to be part of her thesis show. For Andrea, I dressed in a costume of fish net stockings, a skirt made of contact paper, and a T-shirt stitched with the words, "Gender Girl." 
I walked around the gallery as a weird, cigarette girl, selling Andrea's handmade cigarette boxes called Social Myth Lites. Inside the boxes were pieces of handmade paper, sized exactly as dollar bills with tiny woodcut images of exaggerated female body parts, beheaded nudes and other anti-patriarchy statements. As Gender Girl, I walked around asking patrons if they wanted to buy a 'Social Myth for a buck.' By the end of the night, I had sold them all.   
So when Andrea suggested that I pursue a Master's in Interdisciplinary Art, challenging myself to explore my poetry in many different art forms, I did. During my time at Columbia College Chicago, she was one of my teachers, and I also visited her art farm in Indiana, where she taught me how to bind books and make paper from wild grasses and flowers. 
Andrea wasn't the only extraordinary printmaker I'd have the honor to know.
After I had completed my Master's, Benjamin and I moved to North Carolina. In Raleigh, first Fridays were dedicated to an art crawl. Galleries hosted special events, and artists opened their studios to the public. 
On one of my first art crawls, I walked into Blam Studios, a collective for visual artists in the historic neighborhood of Boylan Heights. I immediately saw the Ettan Manual Press and smiled.
I felt a sense of calm coming from the studio across from the press. While the other spaces in Blam showcased lovely work, this studio felt most purposeful, like the artist had spent time arranging every tool, making sure the energy was just right. I respected this. 
I liked the quiet and clean of her space and her work. She made gorgeous, subtle woodcuts layered in rich colors. The images were abstract, the textures exquisite. Her prints featured branches and leaves, the simple beauty of every day shapes and patterns. I wanted to meet this artist, but that night, I couldn't find her.
I returned to Blam shortly after the art crawl. I was determined to meet the mysterious printmaker, and I wanted to connect with other artists, because I missed my grad school community. So I made a flyer, inviting people to a salon. My intention was to hand my flyer to the woman in that peaceful studio, but when I tried the door to Blam, it was locked. I sighed and slid the flyer under the door. 
As I was walking back to my car, I heard the door open. I turned around to see a tall, elegant woman holding my flyer. "Hello," she said, in a pleasant voice, "Are you hosting a salon?"
I walked over to shake her hand, and I was immediately struck by her eyes. Sometimes, if you're lucky, you meet someone whose eyes hold a perfect combination of kindness and mischief. These were Jen's eyes. 
We became fast friends. She attended my salon. I went to her opening. When a space opened in Blam, I interviewed and was accepted into the fold. My studio overlooked the railroad tracks and I loved it! Working there was an honor, but the best part was being in a space with an artist I respected and admired, being with Jen, listening to Kate Bush or Lori Anderson, sipping coffee or wine, laughing and talking.   
Jen and I met each other's loves, and then the four of us, Jen, Sophie, Benjamin and I were hanging out at each other's homes, sharing dinners, sipping, laughing and talking. 
When we threw a Halloween party, Jen and Sophie came as Charles Baudelaire and Oscar Wilde. Jen kicked off the party in character, proposing a toast with the following lines from Baudelaire:
"One should always be drunk. That's all that matters; that's our one imperative need. So as not to feel Time's horrible burden that breaks your shoulders and bows you down, you must get drunk without ceasing. But what with? With wine, with poetry, or with virtue, as you choose. But get drunk."
In Leo's class, I learned processes and technique. His unconventional teaching style taught me it was important to work independently, think for yourself, have agency over your art. Most of all, from Leo I learned that print makers were like poets were like printmakers, and this layering was the best lesson of all.
---
Lines and Layers, Songs
I hear voices. 
Usually, I hear one at a time, and I recognize the voice as a line for a poem or song. 
Sometimes, I hear more than one.
The first time this happened I was in Princeton, New Jersey. I was working for some friends' landscape business for the summer, and from their house, I could walk downtown to a coffee shop. I had just passed the cemetery where Albert Einstein is buried, when I heard a calm voice say, He waits in the shadows of a pine as she appears before him.
I stopped, pulled out my notebook and scribbled down the line.
As I started walking again, I heard, I saw her scratch at sticky bark. 
This voice startled me at first, but I liked her. 
She growled.
I hurried to the coffee shop and sat down. Both voices were coming in quickly, almost too fast for my pen. Two people, a 'journalist' and a 'witch,' were in my head witnessing the same event, but telling the story differently, arguing with each other. They were speaking a narrative I did not recognize, and they were speaking in poetry.
The rest of that morning was a bit of a blur. I know the poem spilled onto the page all at once needing very little revision. I know I felt excited to get back home to Florida to share it with my friend and poet-in-crime, Melissa. I know drank a lot of coffee. 
In Tampa, Melissa and I had formed a writers' group called Animal-at-the-Door Poets Consortium. She coined the awesome name, because at the time, we both had cats (and opossums and raccoons and snakes) showing up on our door steps. Many members of Animal came and went over the years, as Melissa and I hosted critiques, parties (lots of parties), open mics and performances. 
I named my double-voice piece, "Hunt" and read it to Melissa. She opened a bottle of wine, and we started to rehearse. She was the witch, and I was the journalist. We experimented with volume, alternating stepping back from the mic and being right up on it. We played with tempo, speeding up in the middle and slowing toward the end to create an auditory plot arc. We performed "Hunt" at a black box theater called The Silver Meteor, and then recorded it, thanks to the brilliance of musician and recording engineer, Vincent Saletto. 
After hearing two voices at once, after the writing this kind of poem, taking it to both stage and studio, I knew something had shifted. My voice was growing. 
I listened to artists who blended spoken poetry with singing, people like Patti Smith, Tom Waits, Leonard Cohen and Lori Anderson. And when I heard PJ Harvey working with Thom York on the song, "This Mess We're In," I melted. I wanted to do something like this. 
I was lucky to work with Melissa, and in grad school, when I met Kelly, I was lucky again. 
To describe how Kelly and I write together is to describe a certain kind of magic. We collaborate from and within a mystic place. I know. This sounds pretty New Age-y, and maybe it is, so allow me to be more direct. 
We work as witches. 
We listen to each other and to the world around us.
Kelly and I are in love with mystery. We are fascinated by twirl and chaos. We work from dreams and games and Tarot. We are mischievous, playful. When we write, we laugh every kind of laugh, from breathy giggles to belly cackles. 
I've collaborated with artists who work mostly from harder emotions- fear, pain, loss, angst, regret. These emotions are part of our human experience, and while Kelly and I write from these places too, we try not to stay for too long. As witches, we learn from nature, and nature teaches that everything cycles, so we see and hold sorrow, but we work to let it go.
Kelly and I were born feminists and raised Catholic. Separately, before we found each other, we danced in Goth clubs, creating spells to meet. 
Witches always find each other.
While we were in Chicago, in our band, Lounge Car, Kelly wrote lyrics for two love songs- "Torch Song," for her husband, and "Fall Water," for Benjamin and me.    
She invited me to be part of "Torch Song" gently guiding me into what I can now call 'speak-singing.' Thanks to her, the rest of my band mates, Benjamin, Rachel, and Mark, and some of my teachers, Jeff Abel and Sherry Antonini, I now hear and use my voice more like a musician. 
In our current band, Half Wild, Kelly and I continue to layer our voices and challenge ourselves. I am singing more, and she's playing electric guitar like a bad ass. We are writing lyrics that explore our relationship, our cultures and aspects of nature that we feel deepest. We are echoing, harmonizing and calling.
To call is a technical process. Kelly finds the notes that I am not using, and she sings around my voice. This is, however, as far as it goes as a cerebral practice. Kelly calls from her intuition, and she has taught me to do the same. Recently, she sent me a track of her playing an electric guitar melody. As I listened, I felt my heart resonating. To resonate is to amplify by sympathetic vibration or to produce a positive feeling. This was what I felt, and I answered her guitar with low howls.
With Kelly and me it's like we are in a forest, or on some rolling plains, speaking and singing to find each other. It is mystic.
Poetry says it best, so I'll close by inviting you to read some of Kelly's brilliant lines from "Fall Water," and if you like, listen to us here. Enjoy! 
Fall into a day that wants to have you
Swim with what you know, trust the find
Inward cool is soul and wants to lead you
It's the beginning of something, you must know